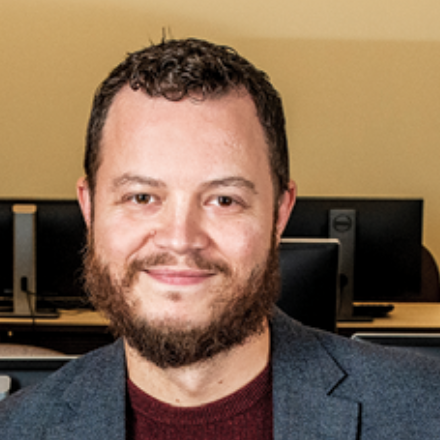 Associate Professor
Computer Science
Bobby B. Lyle School of Engineering
Southern Methodist University
twitter:
@ec_larson
email:
eclarson@lyle.smu.edu
CS Office:
451 Caruth Hall
Lyle School of Engineering
Caruth Hall
3145 Dyer Street, Suite 445
Dallas, TX 75205
SMU UbiComp Lab:
Johnson Square 189

I am an Associate Professor in
Computer Science
in the
Bobby B. Lyle School of Engineering
,
Southern Methodist University
. I am a fellow of the Hunt Institute for Engineering Humanity, member of the Darwin Deason Institute for Cyber-security, and member of the ATT center for virtualization. I am a passionate teacher and researcher in Computer Science. The most important aspect of a thriving research and teaching community is culture. An open, mentoring culture is paramount to creating an environment where ideas, concerns, and critiques can contribute to student growth. I believe research culture can be shaped in three ways: (1) being highly selective of graduate students when setting up a research lab, (2) intermingling undergraduate and graduate research, providing mentoring opportunities to graduate students, and (3) teaching courses with opportunities to conduct meaningful research. I believe my research lab exemplifies this quality; the lab itself becomes a mentoring tool that exemplifies research methods to new students by example.
I received my Doctorate from the University of Washington where I was a Intel Science and Technology fellow. At UW, I was co-advised by
Shwetak Patel
and
Les Atlas
. I also have an MS in Image Processing from Oklahoma State University, where I was advised by
Damon Chandler
. I am an associate editor for the ACM Journal IMWUT. My work has been published in numerous conferences and journals disseminated through many different cross-disciplinary venues: IMWUT, Pediatrics, JBHI, JCI, ICIP, UbiComp, CHI, DEV, WCCI, PerCom, PETRA, SPIE, and Pervasive, garnering numerous best paper nominations. Please see my
publication page
and/or
Google Scholar page
for more details.
When I am not working, I am spending time with my wife and three wonderful children.
My research explores the interdisciplinary relationship of machine learning and signal/image processing with the fields of security, mobile health, education, psycho-visual psychology, human-computer interaction, and ubiquitous computing. Like most academics, I have a passion for teaching and mentoring, and I view research as an ideal opportunity to instruct the next generation of computer scientists and engineers. I have positioned myself (with plenty of help from others) in a unique role, supporting cyber-security, education, healthcare, and sustainability applications via the integration of machine learning and ubiquitous sensing. I have become increasingly interested in sensing markers of health and context awareness using commonplace sensors. My research supports many healthcare, educational, and security initiatives by creating applications that (1) manage and diagnose many chronic/infectious ailments, (2) help learners master educational topics, and (3) investigate information leakage in pervasive and mobile devices.
• Machine Learning and Deep Learning [
Sponsored
]
• Cyber Security, Mobile Sensor Data Leakage [
Sponsored
], Counterfeit Detection [
Sponsored
]
• Context Aware Computing/Learning in Man-Machine Interfaces [
Sponsored
]
• Mobile Health Computing [
Sponsored
]
• Target-Ligand Virtual Screening
Copyright (c) 2013-present Eric Larson, eclarson.com. All rights reserved. Design by FreeCSSTemplates.org. Many design elements on this site are courtesy of Jon Froehlich.