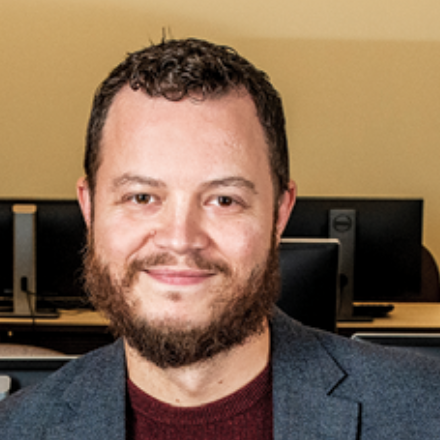 Associate Professor
Computer Science
Bobby B. Lyle School of Engineering
Southern Methodist University
twitter:
@ec_larson
email:
eclarson@lyle.smu.edu
CS Office:
451 Caruth Hall
Lyle School of Engineering
Caruth Hall
3145 Dyer Street, Suite 445
Dallas, TX 75205
SMU UbiComp Lab:
Johnson Square 189
---
Oral reading fluency (ORF), generally defined as reading quickly, accurately, and with prosody, is an essential part of reading proficiency. Prosody, reading with appropriate expression and phrasing, is one way to demonstrate that a reader understands the meaning of the text.
The purpose of this study is to collect prosody ratings of audio recordings of students' ORF. These human-rated prosody scores served as the basis for training an algorithm to automatically generate prosody scores from students' oral reading.
Audio recordings of students in Grades 2 through 4 reading brief ORF passages were collected as part of an IES funded project called Computerized Oral Reading Evaluation, or CORE. CORE combines automatic speech recognition (ASR) to score ORF accuracy and rate, with a latent variable psychometric model to scale, equate, and link scores across Grades 2 through 4. The primary goal of CORE is to develop an ORF assessment system with the potential to reduce: (a) human ORF administration errors, by standardizing administration setting, delivery, and scoring; (b) the time cost of ORF administration, by allowing small-group or whole-classroom testing; (c) the resource cost to train staff to administer and score the ORF assessment; and (d) the standard error of ORF measurement.
The work conducted in the current project extends this line of research by incorporating prosody into the measurement model.
The Consequential Validity Study from the original CORE project conducted in 2017-18 and 2018-19 resulted in the accumulation of 90,720 audio files. Of these, 8,713 were excluded from the current study because they were recordings of students reading the criterion easyCBM ORF passages from the original study while the remaining 82,007 (90.4%) represented recordings of students reading brief (approximately 50-85 word) passages developed specifically for the CORE project. From the 82,007 eligible audio recordings, only those that were at least ten seconds long were selected (to screen for empty or incomplete files) for a final corpus of 78,712 audio files.
The files can be downloaded from the following link (to be released after IRB approval from University of Oregon). All audio has been converted to featurized descriptors. The raw audio of the passages is not available (in order to maintain proper anonymization of students in the study).
When using the Database, please cite the following:
G. Sammit, Z. Wu, Y. Wang, Z. Wu, A. Kamata, J. Nese, and E. C. Larson (2022). Automated Prosody Classification for Oral Reading Fluency with Quadratic Kappa Loss and Attentive X-vectors. International Conference on Acoustics, Speech, and Signal Processing (ICASSP 2022). Full Text PDF
Copyright (c) 2013 Eric Larson, eclarson.com. All rights reserved. Design by FreeCSSTemplates.org. Many design elements on this site are courtesy of Jon Froehlich.